Nova Blaster
This is not a mandatory ship part.
Weight
30
Max. Carriers
50 Pikmin
Location
Forest of Hope
The Nova Blaster is a ship part of the S.S. Dolphin in Pikmin. The brochure claims that It emits a powerful burst of light said to be able to destroy stellar objects as large as stars. It is unknown why a cargo ship like the Dolphin would have this weapon, however, it is assumed that its purpose is as a means of defense against space pirates. The brochure also claims that the blasts could travel through the currents of space.
Notes
Discovery Notes
"I've found the Nova Blaster! This emits a dazzling burst of light capable of destroying almost anything! I'm not exactly sure about this, but the promotional brochure claims that its blasts can travel in the currents of space-time, smashing through stars and into the rifts of space."
Ship Log
"This is a weapon of such incredible destructive force that it can blast stars into tiny pieces... It has a strange allure."
Collecting the Part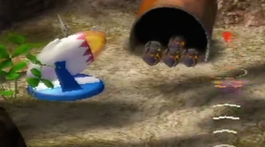 Simple enough, destroy the 
stone wall
 next to the landing area with 
Bomb Rocks
. Defeat the 
Dwarf Bulborbs
 and a 
Red Bulborb
. Destroy the black gate or go through a small opening in the tree stump's root. Continue down the path, beating more 
Bulborbs
. It is at the end, next to a rusted open tin can.
Community content is available under
CC-BY-SA
unless otherwise noted.